System formwork was almost unknown before the start of the 1950s. Instead, concrete was cast in forms that were individually made for each project out of square-edged timber and boards. As these forms could usually be used only once, this approach was very time consuming and costly.
Against this background, Georg Meyer-Keller became a pioneer in his field and developed a formwork system patented in 1952 that could be used universally and above all multiple times. He made constructing with concrete not only much simpler but also quicker and appreciably cheaper. No wonder the new formwork system found success on the market so quickly.
This universal formwork system was originally marketed through construction plant dealer Jakob Noe. It soon became known to the trade as "NOE Schalung". But selling formwork elements alone soon seemed no longer enough. Georg Meyer-Keller quickly realised the increasing importance of providing advice and designing formwork for individual construction projects. This led to the founding of NOE-Schaltechnik Georg Meyer-Keller KG on 1 October 1957, which is now NOE-Schaltechnik Georg Meyer-Keller GmbH + Co. KG.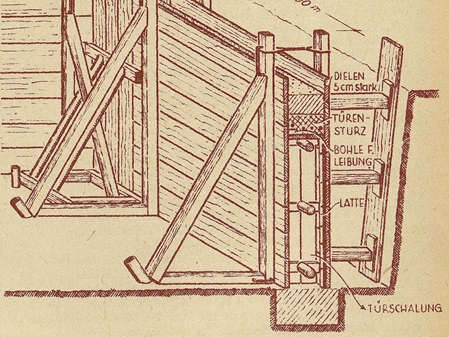 Schematic diagram of a typical earlier concrete form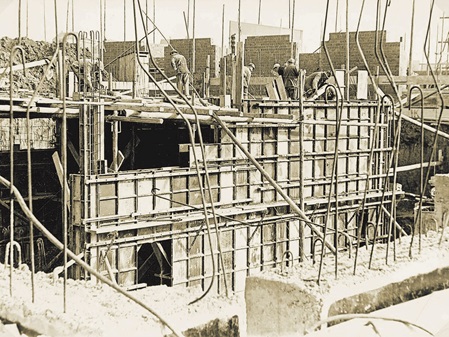 The Weststadt School in Göppingen was one of the first sites where systemised concrete formwork was used – universal steel formwork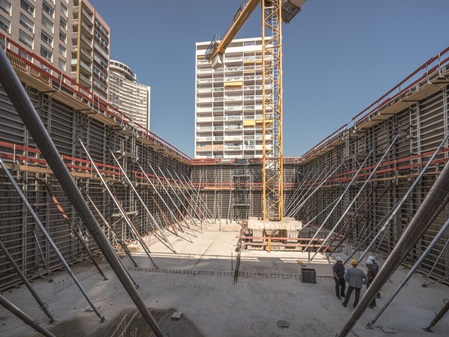 An example of modern formwork technology: NOEtop frame formwork with integral bracing. Here being used for the construction of the Conservatoire de Musique, Mulhouse, France


Georg Meyer-Keller develops a universal steel formwork system. Compared with the timber constructions fabricated by traditional carpenters, this concept saves considerable material and labour.

Sales of the new formwork system are initially handled by the construction plant dealer Jakob NOE in Ludwigsburg.

Georg Meyer-Keller forms NOE Schaltechnik Georg Meyer-Keller KG on 1 October in Süßen for the marketing, planning, design and other services in the field of formwork.
His NOE universal steel formwork makes its first appearance at the bauma trade fair in Munich.
The range of products now includes formwork for civil engineering; circular and tapering shaft formwork for the first time.

NOE Austria is founded, and becomes the springboard for developing markets in the then Eastern Bloc countries.

With the launch of NOE Combi Beam, the "steel square-edged timber" comes onto the market and becomes established in the construction industry. History is written with large-area deck formwork and deck formwork tables based on the NOE Combi Beam.

NOE is registered as a trademark.

Formation of NOE Holland.

Founder Georg Meyer-Keller dies on 25 May 1970.
The businesses are taken over by his son Dr. Ing. Dieter Meyer-Keller and Dipl. Kfm. Arnulf Blessing.
NOEplast is introduced to the product range and enables new forms of architectural concrete.
Formation of NOE Switzerland.

The majority shareholder Hannelore Junker takes over management of the company. Arnulf Blessing steps down from the Management Board.

NOE Schaltechnik Georg Meyer-Keller KG becomes NOE Schaltechnik Georg Meyer-Keller GmbH + Co. KG.
Successful entry into the Middle East market: An office complex for various ministries is completed in Kuwait using formwork from NOE-Schaltechnik.
The formwork market takes a completely new turn – it becomes a rental market.

NOE celebrates its 25-year company jubilee.

NOE develops an extremely flexible and adjustable support bracket for forming single-sided walls with heights up to 5.75 m.

NOE expands its services to include servicing and repair of formwork. Wall and deck panels are cleaned, damaged elements repaired and reworked.

The hinged NOE walkway bracket scaffold becomes the first foldable working and safety scaffold to gain the GS mark in safety tests.

On a 2.5 hectare site, the new central rental warehouse with a large open-air storage area and four assembly shops are brought into operation.

Adoption of a quality management system in accordance with DIN ISO 9000/9001.

Generational change I: Stefan Blessing, the son of the Managing Partner Hannelore Junker, joins the company and the Management Board.

Generational change II: Long-serving Managing Director Hannelore Junker takes her well earned retirement.
The new manual formwork system NOE-Alu-L is introduced.
Introduction of NOEtop. With integral bracing, the new system combines the advantages of frame formwork with those of beam formwork.

The NOEtop system launches on the Russian market. Increasing demand ensures this market gains importance.

NOE celebrates its 50-year company jubilee.
The NOE Alulock formwork lock is a double prize winner: it gains the iF Product Design Award 2007 and a silver in the Focus Sicherheit section at the International Design Award, Baden-Württemberg 2007.
Introduction of the NOEtec system, designed especially for engineering structures.
Dieter Meyer-Keller steps down from the Management Board.
NOE starts its own metal processing division for production and development in its metalworking shop.
The premises in Aarau become too small, in particular for the rental business. As a result, NOE Switzerland moves to new facilities 50 km away in Önsingen, a town with particularly good transport links.

Nimbus becomes the new majority shareholder and its representative Christian Basedow joins the Management Board.

This made it possible to break new ground and grow in the market that we had helped to develop over decades.

New social rooms for NOE employees are built in the rental warehouse and the wet cleaning facilities combined and modernised.

Bernd Fetzer joins the Management Board.
Four fully equipped, covered unloading areas for trucks are built in the returned equipment section.
A new cleaning machine jointly developed by NOE becomes operational.